What will Nikki Nova do to stay on a reality show? She'll suck Nicole Oring's bare toes, that's what! But Nikki's foot-worship ordeal turns pleasurable as she savors the taste of exotic Nicole's bare feet! Before they're finished, Nicole is happily reclining under Nikki's feet as she licks her soles!
Alyssa Reece nursed a silent passion for her friend Lisa Neils' shapely bare feet until she finally had a chance to put her mouth where Lisa's toes were! To her surprise, Lisa eagerly returned the favor by tonguing Alyssa's quivering soles!
Kina Kai and Violet Marcell hold a private party for two where Violet's elegant feet and Kina's tiny toes furnish all the entertainment and refreshment that's necessary!
Innocent nurse Isobel Wren was only trying to bring relief to "patient" Lena Shelby, but mean Lena tied Isobel and forced her to worship her bare feet from the prone position!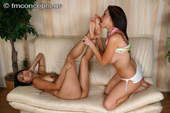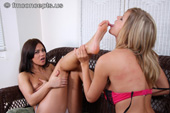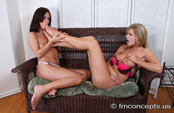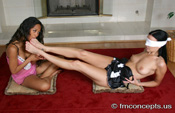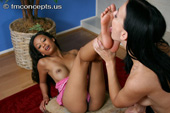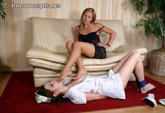 Check Out All Your Ordering Options!