How many of us would love to trade places with Edanya as she kneels at the feet of Sophia Santi? Exquisitely desirable in her bra and panties, Sophia permits Edanya to tenderly handle her elegant bare feet, then to flick the tips of her toes with a wet tongue! Her excitement growing, Edanya can resist temptation no longer -- she thrusts Sophia's naked toes into her mouth and sucks on them with abandon! Once Sophia's toes are drenched, she requests that Edanya tongue-bathe her bare soles! After Edanya has happily licked her sensitive foot-bottoms from heel to toe, Sophia urges her new friend to lie back while she mouths Edanya's slender feet! As Sophia expertly worships Edanya's toes and soles, both girls shudder with pleasure at their delirious interlude!
Blonde beauties Jana Cova and Lena Shelby indulge their toe-sucking desires in the idyllic embrace of a tree-shaded nook, while Sammie Rhodes gives a thrilling exhibition of self-worship that culminates with all ten of Sammie's toes wriggling close to her lips! Guys get their turn too, as the bare feet of glamour-girls Maya Gates, Lachelle Marie and Sue Diamond (irresistible toes on the dashboard!) receive oral devotion from a dedicated worshipper!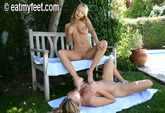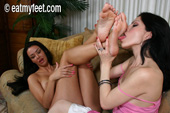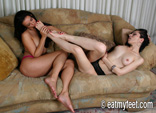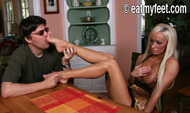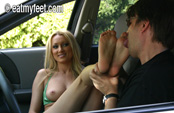 Check Out All Your Ordering Options!